Universal Matching Reticle
Benchmark Technologies' Universal Matching Reticles are high precision single and multiple matching sets used to measure system grid and field matching errors. Universal Matching Reticles are used by leading chip and lithography equipment manufacturers to match like or differing litho tools within a fab or fab-to-fab. Universal Matching Reticles are also used to qualify new lithography tools and assess matching to the legacy tool base. With an installed base of over 600 units, Universal Matching Reticles are available for virtually all lithography tool types and models including ASML, Nikon, Canon and Ultratech.
Applications
Measurement of grid and field matching
Measurement of field stitching errors
Matching lithography tools:

same manufacturer
differing manufacturers,
differing models and magnifications

Matching tools fab-to-fab
Single and multiple reticle sets are compatible with those previously produced

match existing steppers to planned equipment for evaluation prior to purchase, or qualifying against existing tools

NIST-traceable grid standard
Concentric and Non-concentric and matching designs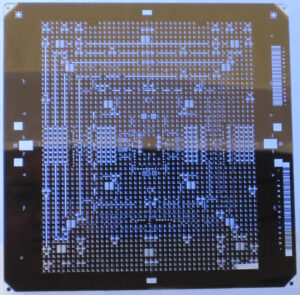 Procedures
Using the "golden wafer" approach and industry standard overlay tools, the 1st set of targets is printed and etched into the wafer. The wafers are then recoated with resist and printed a second time using a different lithography tool with a programmed offset. By observing the offsets in the printed test cells, the user can analyze how well the two tools match. Benchmark's Omnimatch™ Software  was specifically designed to analyze the overlay tool data and provide the user with possible interventions to improve overlay.
Our Universal Matching Reticle includes standard test cells used by the industry including Box-in-Box targets and other metrology measurement marks (Nikon Cross, Canon XY, ASML PM, KLA AIMS, etc.)
For more information please contact us