Photomasks And Reticle Fabrication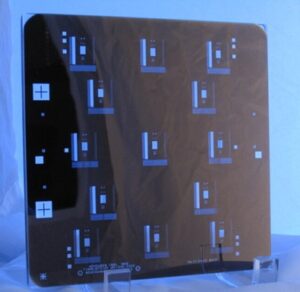 Benchmark Technologies' highly experienced staff provides complete photomask manufacturing services through our global network of manufacturing partners. Our broad and comprehensive knowledge of mask manufacturing systems and capabilities always guarantees that our customers' photomasks will be written on the right tool for the job at the most efficient cost. We thoroughly understand both laser and e-beam systems used in the industry and can advise our customers on the tradeoffs.
We offer masks for wafer printing in all popular sizes from 4 X 4 inches to 14 X 14 inches on either quartz or soda lime glass substrates. We can also cut down masks to smaller sizes as needed. In the area of large area masks we can provide patterned chrome on glass masks in sizes up to 1.2 meter X 1.44 meter.
We also have extensive CAD capabilities to render customer designs into machine "write-ready" formats. We can create CAD files from sketches, drawings, formulae, spreadsheets, word documents and bitmaps. We also work from customer supplied CAD type files including; GDS2, Oasis, Tanner L-Edit, and AutoCAD. We provide a secure server to upload large files.
Since we understand the lithography tools that the masks are used on, we are especially helpful to small company and university accounts that may not have this expertise available to them.
Please contact us to start your photomask project today!