Custom Fabrication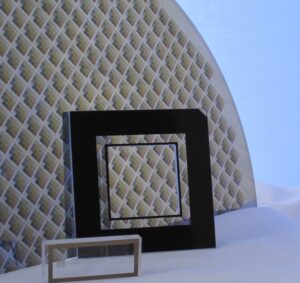 Benchmark Technologies offers a wide variety of custom fabrication services that leverage the precision patterning and etch infrastructure of our diverse manufacturing partner base. We see ourselves as collaborators with our customers to develop a manufacturing solution for which there is no obvious source. We utilize the knowledge and tools based at mask shops, wafer fabs, coating houses, and optics machining facilities. From this diverse set of partners we can develop supply chains for hard to fabricate parts made of glass, silicon, or other materials.
Many of our custom projects are used as traceable calibration artifacts where no standards exist. Others are used as replication masters to produce hundreds or thousands of exact duplicate parts. Still others end up as elements within an optical system. Often these parts start as a silicon wafer or glass photomasks and are rendered into other form factors by subsequent processing.
Some of the materials we have worked with for these types of projects include:
Silicon wafers – Diameters: 100mm, 150mm, 200mm, and 300mm
Standard Photomask Glass – Sodalime or quartz, Chrome or Iron Oxide 4 X 4 inch to 9 X 9 inch
Large area photomask glass – Sodalime or quartz, Chrome >9 X 9 inch to 47 X 56 inches
Other glass materials – BK7, ULE, filter glasses
If you have a project in search of a fabrication solution, please contact us with your project details. Often a quick discussion will determine feasibility, or provide some alternative methods or materials to consider.